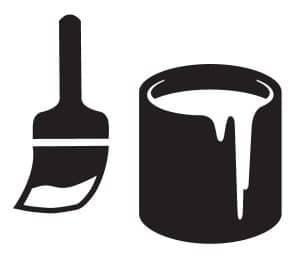 HIGH QUALITY EXTERIOR ACRYLIC LATEX
90 DAYS, BUT NO LATER THAN 1 YR
FREE OF DUST, DIRT, MILDEW
Paint WindsorONE Trim Boards with two coats of high-quality, 100% acrylic-latex exterior paint as soon as possible after installation, preferably within 90 days but no later than 1 year after installation, according to industry best practices. The surface must be free of dust, dirt or mildew before painting. Wash away any foreign material with water and a mild detergent, and allow the surface to dry before painting. Apply paint according to manufacturer's specifications and recommended spread rates and number of coats. Do not use paints with vinyl-based resin combinations. Brush application of primers and top-coats ensures best coverage and protection.
Wood dust produced by sawing, sanding, or machining wood and wood products can be hazardous.
Wood dust is flammable and presents a possible explosion hazard.
Wood dust may cause respiratory, eye, and skin irritation.
Wood dust from some tree species may cause dermatitis or allergic response.
The International Agency for Research on Cancer (IARC) classifies wood dust as a nasal carcinogen in humans.
The National Toxicology Program (NTP) classifies wood dust as a human carcinogen.